IJang stainless steel tables and stainless steel racking are ideal for rebuilding commercial kitchen storage equipment solutions
How Severely Has Covid Affected Global Restaurant & Hotel Businesses?
The impact of Covid on the global restaurant, hotel and hospitality industry trades has been devastating. In the US, restaurant businesses suffered significant losses of over $200bn in the first year of the pandemic. Reopening and recovery are a critical issue for hospitality industries seeking to rebuild their customer base and profitability.
Recovery is strong, but sales remain down from pre-Covid years.  The loss of workers in the hospitality industries makes it difficult for businesses to recruit staff. This means every possible way of increasing workplace efficiency needs to be included in planning for recovery in these historically labor-intensive industries.
Higher food costs and supply chain issues are adding to the difficulty of recovering from the impacts of the pandemic. It has become even more important to minimize spoilage and maximize supply chain efficiency.
---
What are three significant impacts of Covid on the global hospitality industry?
Businesses have suffered massive financial losses
Skilled staff have left the labor market
Food, labor & supply chain costs have risen
---
How Can Better Storage Assist in Covid Recovery Planning?
Post-Covid, hotels and restaurants are gearing up and expanding their business, creating increasing global demand for stainless steel tables and commercial kitchen storage equipment. We need to recognize that its not business as usual in the hospitality industries. The need to operate with reduced staffing and disrupted supply chains is driving different approaches to inventory management.
Covid has created significant challenges through financial losses, employment shortages and supply chain limitations and costs. All these need to be addressed when planning future-proof storage solutions. That is why intelligent, easy-access, low maintenance and well organized storage and working spaces are critically important to safeguarding post-Covid recovery.
Our commercial kitchen food storage and display shelving, racking, stainless steel tables and storage systems are designed to maximize storage volume and make it easier to access the kitchen supplies and products you need, when you need them. This reduces staffing requirements and minimizes spoilage, helping you keep your business back on its feet in the post-Covid world.
---
What are 7 points to consider when choosing commercial kitchen storage equipment?
1. Space available for storage
2. Hygienic easy to clean designs and materials
3. Capacity requirements based on your business needs
4. Durability to withstand heavy use and frequent cleaning
5. Organization of storage types for maximum efficiency
6. Accessibility for staff to easily get to what they need
7. Aesthetics for visually appealing workplaces and public spaces
---
How can you maximize storage space in your commercial kitchen?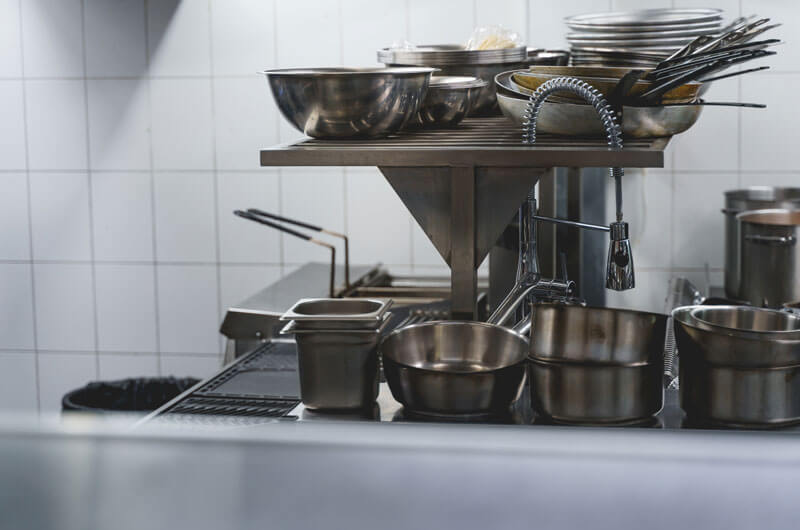 The type and size of commercial kitchen storage equipment you can use in your business depends on the space available. To make sure the storage you choose fits comfortably you may need to draw sketch plans to determine the space you can use with access routes. Easy access maximizes the efficiency of your staff, which is an essential post-Covid labor shortage issue.
When purchasing commercial kitchen storage equipment, and stainless steel tables, using a manufacturer who can provide a wide range of styles and sizes will help you maximize the use of your available storage space, avoiding cramped and cluttered storage that is hard to access and keep clean.
Do you need special hygienic commercial kitchen storage equipment?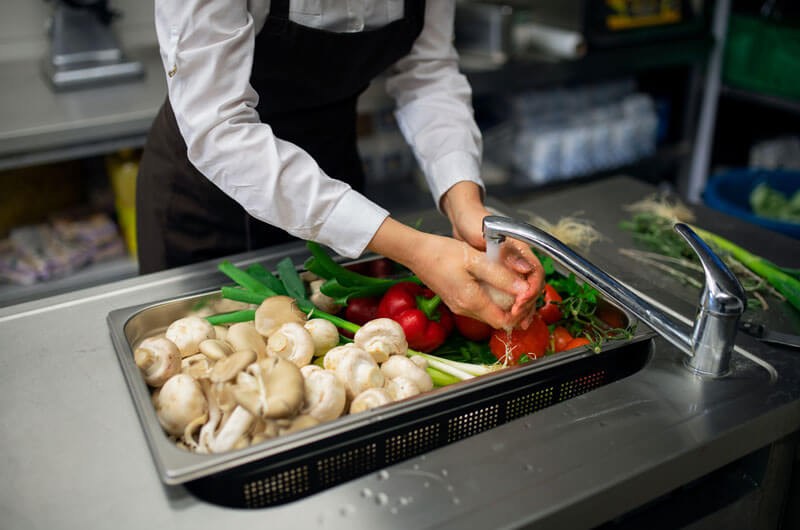 Food safety legislation demands you can maintain a clean, hygienic workplace, and that includes your storage systems. Commercial kitchen storage equipment and cold chain storage must be easy to clean and make sanitary. You can use standard shelving and racking solutions if they are made of appropriate materials.
Food grade plastics and stainless steel are the best options for shelving, racking and containers because they are easy to keep clean and sanitary, taking the stress out of food safety inspections and making the working environment safer for everyone.
Stainless steel tables provide transit and work surfaces for kitchen storage
In a busy commercial kitchen, you also need to think about where you will be working, and where to put supplies that you will be using again soon. This is where  stainless steel tables become an essential part of your storage solution.
Our range of stainless steel tables is ideally suited for food preparation and for in-kitchen storage of frequently used food items that need to be stored hygienically. Highly resistant to contamination, easy to clean and maintain, our stainless steel tables enhance your kitchen efficiency.
How much storage do you need in your commercial kitchen?
Think carefully about the volume of food, food related supplies and kitchen equipment that you need to be able to store at any one time, and the space available to work on food preparation. The balance between commercial kitchen storage equipment and stainless steel tables for work space makes your kitchen productive and economical.
It's important that you have enough space to store your kitchen supplies while maintaining logical storage locations for access, and keeping supplies segregated with sufficient space to maintain airflow and freshness and avoid potential contamination.   Also consider potential needs for cold chain storage to manage post-Covid supply chain and food cost impacts.
Why do commercial kitchen storage equipment and stainless steel tables need to be durable?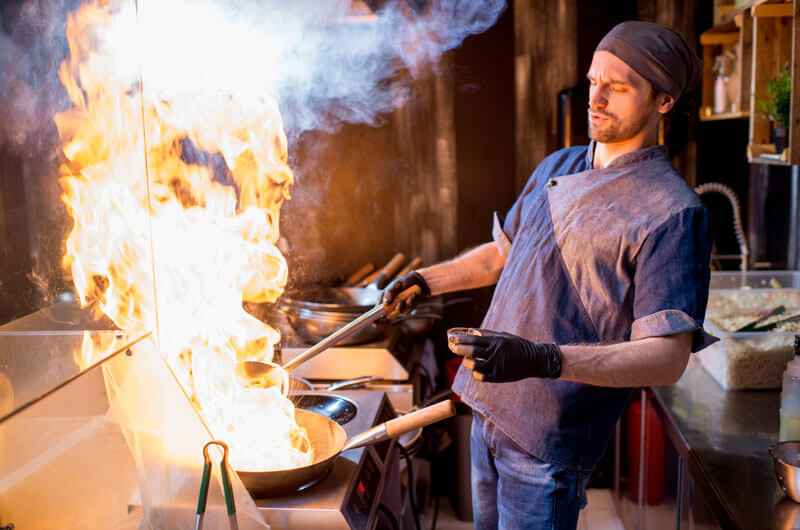 In a domestic setting, you don't make the same demands on your storage space as you do for commercial kitchen storage equipment and stainless steel tables. In a commercial kitchen your storage will have to withstand heavy use, carry large loads to maximize storage space and be cleaned frequently.
Our high quality commercial kitchen storage equipment is durable by design, made from long-lasting food-grade stainless steel, which is built to last and resists chemical cleaning and rough treatment in a busy working environment.
How should you organize your commercial kitchen storage equipment?
The layout of commercial kitchen storage equipment and stainless steel tables for working areas needs to be carefully planned to make it easy to keep everything organized and easy to access based on frequency of use. You also need to be able to conveniently store and find supplies and equipment of all types and sizes.
Shelves, racks, units, cabinets, stainless steel tables and drawers of various sizes with multiple compartments or adjustable spacing are the best choice to ensure you have a place for everything you need and enough space that everything will fit.   This reduces spoilage issues and increases staff productivity.
Why does commercial kitchen storage equipment need easy routes for staff to access stored supplies?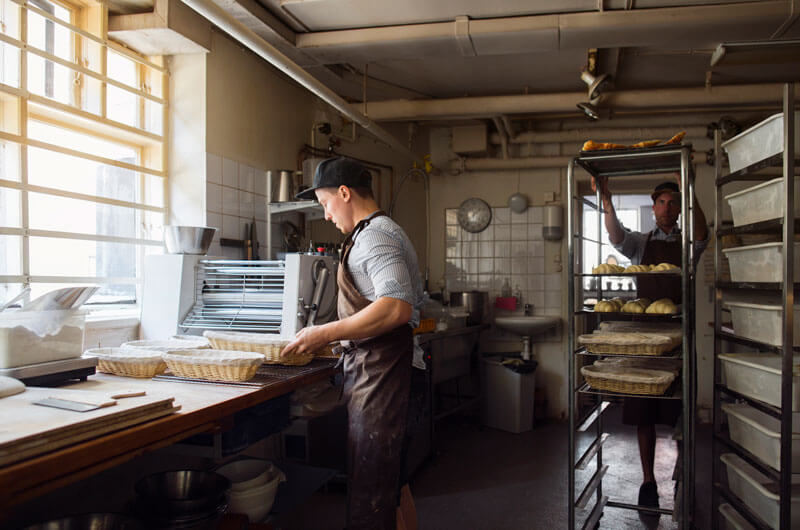 Your staff need to be able to easily get to everything stored in your commercial kitchen. Think about storage heights and reach for access, and remember that mobile carts can be good for supplies and equipment that can be easily moved in and out of storage as required.
In the post-Covid reduced labor environment, you need to be able to get the best out of your labor force. Routes through your storage area need to be laid out for maximum efficiency and safe access, so part of your planning needs to focus on maintaining the shortest, easiest access routes to the most commonly used kitchen supplies and equipment.
Are looks important for kitchen storage and stainless steel tables?
You might think its only important to have clean, clear, well finished storage equipment and stainless steel tables if they can be seen by your customers, but visually appealing storage and working space also improves the morale and satisfaction of employees.
Working in a professional space makes your staff feel more comfortable and valued. This encourages good working practices including respect for supplies and equipment that keep your business running smoothly  .
Working in an easily maintained, hygienic and professional environment makes it more likely your staff will stay with you rather than moving to another employer who is also struggling to fill employment gaps in the post-Covid job market.
IJang commercial kitchen storage equipment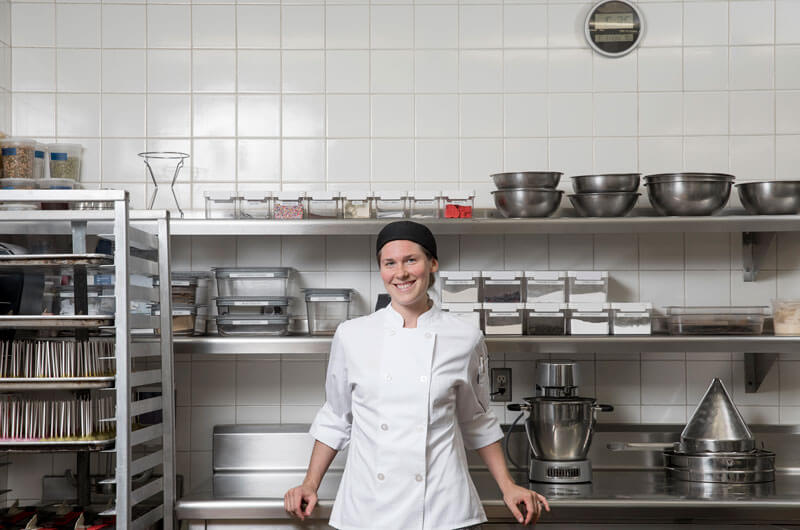 When you look for a commercial kitchen storage solution, you know it needs to provide quick, easy access to securely store and retrieve your inventory. It is also important that it is strong enough to last, and flexible enough to be configurable for future changes to requirements.
From comprehensive fit-outs for a commercial food storage warehouse to compact storage management for the food service in a convenience store, we have everything you need. Our easily customized and modular commercial kitchen storage equipment solutions will future-proof your business storage.
We manufacture commercial kitchen storage equipment of all types to very high quality standards. We supply the following ranges of standard products in hygienic food-grade stainless steel direct from our state-of-the-art manufacturing facility in Taiwan:
Stainless steel tables that are durable by design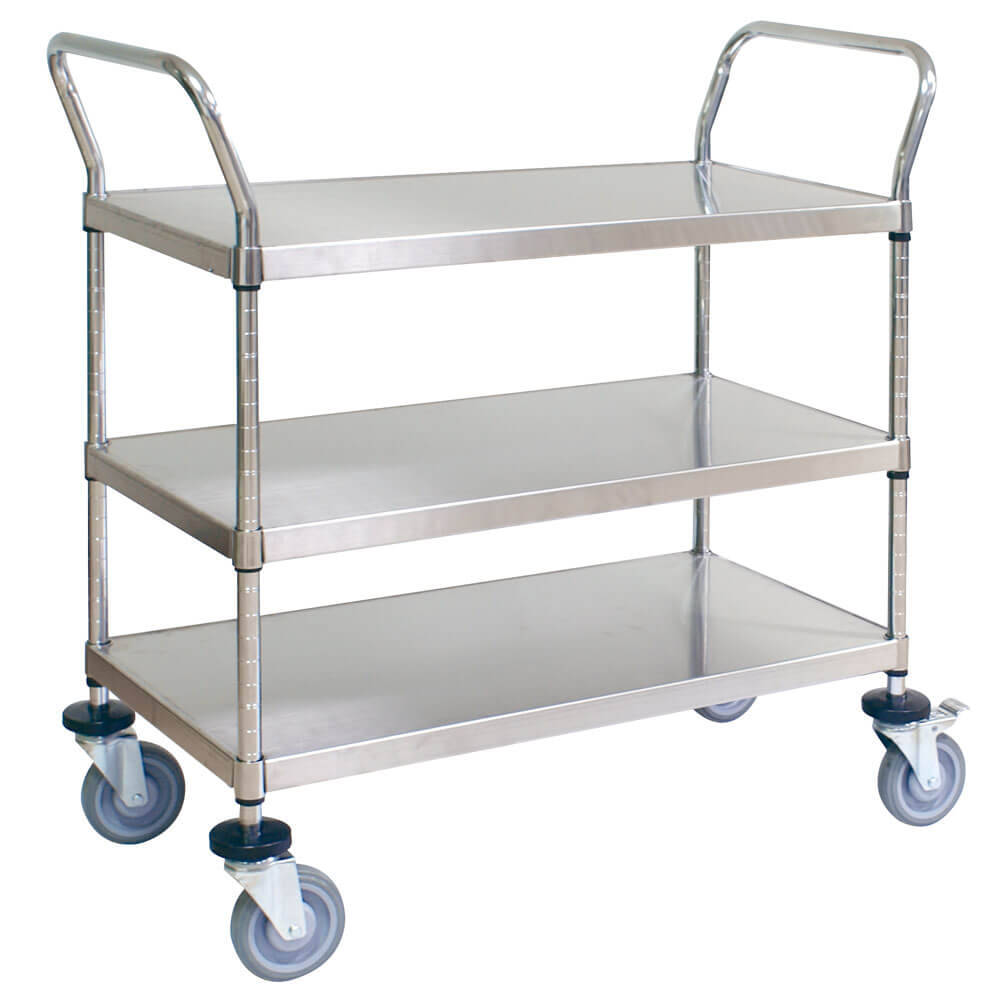 Our commercial kitchen storage equipment designs feature rugged stainless steel tables and shelving that can withstand heavy use and frequent handling. Our storage products are all easy to assemble, allowing you to rapidly reconfigure storage space no matter what your requirement.
Flexible commercial kitchen storage equipment maximizes space
Our food storage & display and cold chain storage solutions maximize use of available space, and offer flexible and adaptable storage options that are easy to reconfigure. Stainless steel tables offer hard wearing work services to improve productivity. With our designs, you can modify your storage to meet changes in your business model without completely rethinking your storage space.
Commercial kitchen storage equipment & stainless steel tables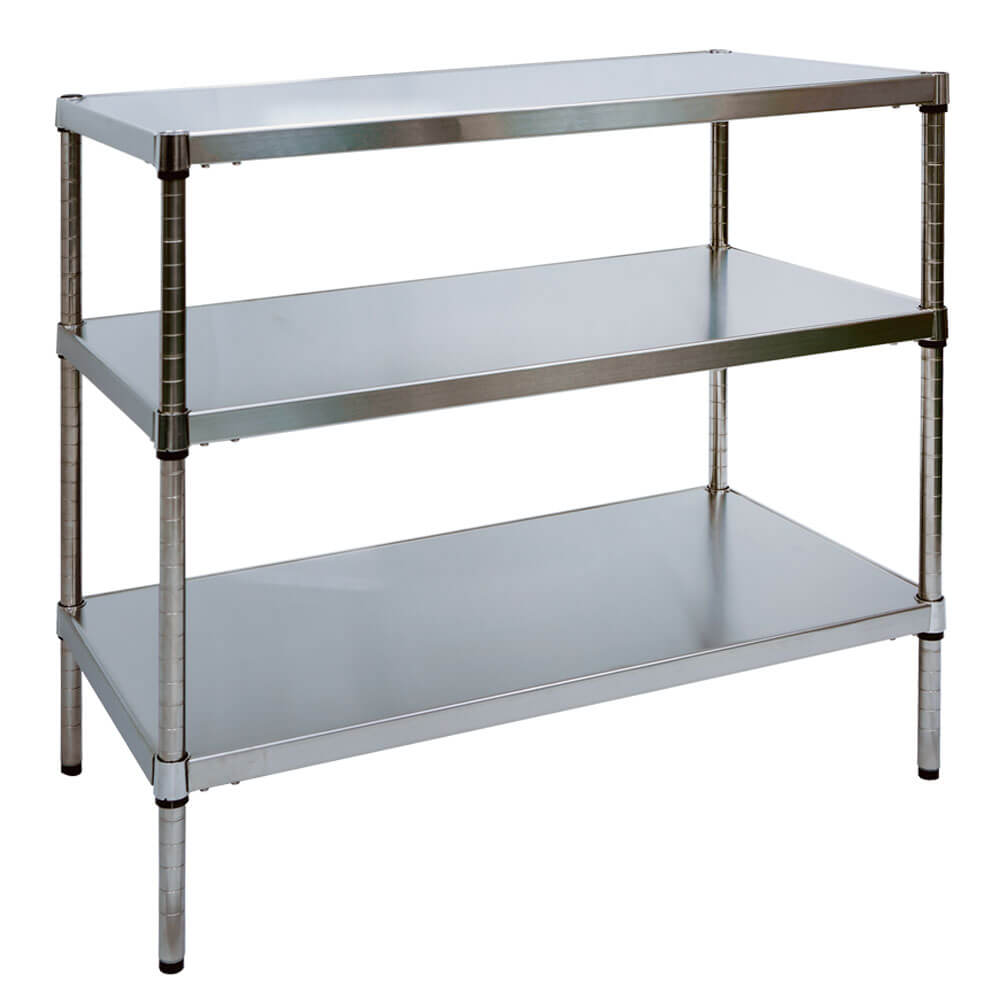 The quality of our stainless metal wire shelving, solid shelving, mobile carts, custom containers, vertical racks, stainless steel tables, customized storage solutions and pallet racking have made us a leading global manufacturer of storage solutions.
Enjoy the benefits of our three decades of experience in matching our storage solutions to the changing needs of our clients. Contact us to discover how we can supply commercial kitchen storage solutions that will optimize your business workflow and maximize efficiency.